765WS Irons
A Wide Sole Game Improvement Design with the Versatile Turf Playability of a More Narrow Sole and the Low Center of Gravity of a Wide Sole.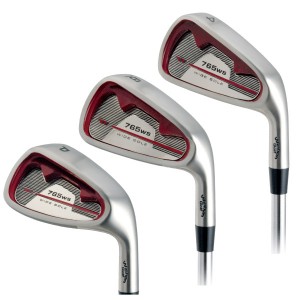 Features:
A Wide Sole Design for Any Golfer – the strongly beveled leading edge combines with a very low bounce and raised rear sole surface to be a proper sole fit to any golfer, from downward to upward angle of attack.
Wide Playable Sole Puts More Weight Low to keep the center of gravity lower to help golfers hit the ball up to fly.
Modern Strong Loft Design is offset by the wide sole/low center of gravity to help golfers hit the lower loft 765WS ironheads more easily up in the air than other strong loft iron models.
Rear Undercut Lower Cavity Slot helps move more mass back from the face to also help get the ball up more easily.
Precision Investment Cast from 431 Stainless Steel for ease in loft/lie bending, finished in a bright satin polish with modern back cavity medallion.  Available in RH in #4 – 9, PW, AW.