Smoooth 5 Putters
Mallet and Heel Toe Designs with Tungsten and Steel Weighting for High MOI in Black and White Versions.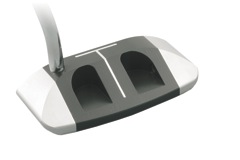 Features:
Three Different High MOI Multi-Material Putter Designs.
Smoooth model 5 is a semi-mallet heel/toe weighted design. Just LH in stock!
Model 5 in heel shafted design in Left Hand.
The Smoooth Series name comes from the highly polished smooth aluminum face which lowers the friction between face and ball for more consistent roll.
Each Smoooth Series putter model is designed with significant weight addition capability to offer a wide range of putter weight fitting options.  Smoooth model 5 allows up to 42 grams of headweight increase.
Smoooth model 5 designed with 6061 aluminum center area and stainless steel heel and toe weights to increase the MOI while delivering a soft impact feel.