Green Graphite Iron Shaft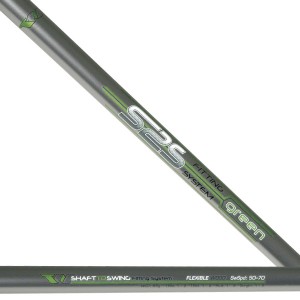 A new Addition to the S2S Line of Original Shaft Designs to Offer Clubmakers an Economical Combination Flex 0,370" Shaft for Slow Swing Speed Golfers.
S2S Green is a Combination A/L Flex Design for men or women with 50-75mph wood swing speeds and 40 to 60 mph iron swing speeds.  No Flex Letters are on the S2S Green for golfer who don't want a soft flex designation on the shaft.
S2S Green Iron Shaft has a 0,370" Tip to Allow Clubmakers to Fit Slow Swing Speed Golfers into any TWGT Iron Design with a 0,370" Bore.
 Combination Flex Wood and Iron Shaft Design offers clubmakers the chance to custom tip trim to achieve a very wide range of softer flex options for slower swinging golfers.
S2S Green Iron Shafts are a Completely New Combination A/L Flex Design with 0,370" parallel tip.