Common Sense Clubfitting
The long awaited sequel Tom Wishon's 1997 milestone book on clubfitting is now available. Common Sense Clubfitting: The Wishon Method brings clubfitting technology into the 21st century.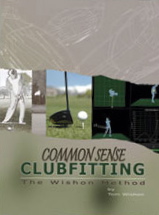 Clubfitting technology has changed enormously since the 1997 publication of Tom's previous book. Clubmakers need a more complete, and more up-to-date discussion of the knowledge and techniques that will match golfers with the best fitting specifications to enable them to get the most from their individual playing abilities. Common Sense Clubfitting offers the very latest fitting knowledge from the game's most respected authority on custom clubmaking and clubfitting technology.
Common Sense Clubfitting is a more streamlined, more accurate and more focused approach to teaching clubmakers how to make changes in golf clubs which will address the real game improvement needs of any golfer, regardless of their ability.
Common Sense Clubfitting includes an in-depth section on how to identify the critical movements of the golf swing that indicate specific fitting requirements. The book also includes a completely new chapter on shafts, which will assuredly take shaft fitting from a "best guess" selection to a much more focused and individual process for ensuring the best choice of shaft for each type of golfer.
Key to the common sense approach of the book to clubfitting is the completely updated spotlight on the exact fitting specifications which clubmakers must address to ensure the most significant improvement in the golfer's shot distance, accuracy, consistency, trajectory and feel.